Utility billing software and payment system designed to work with small to large utilities.
UtiliPay understands the unique business needs required for different size utilities and puts all of those needs together in one secure platform.
UtiliPay Billing Software
The UtiliPay Billing software is a cloud-based solution to give a utility flexibility to work from any environment. Plus, with flexibility comes time and money savings. Features of UtiliPay include:
Calculates billing for water, sewer, trash, gas & power utilities
Prints postcard bills that can be mailed using reduced waste per card
Print front and back of the bill to send messages to the clients
Flat Rates, tiered rates, taxes, and fees are all billable
E-Billing capabilities to save money for the utility
Text message notifications for shut off notices, emergency management, boil water orders, and other town or municipal needs.
Cloud based for remote access work
Inexpensive Setup costs and annual costs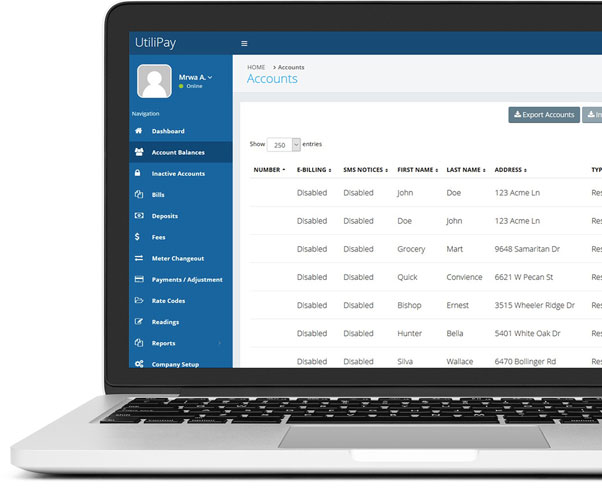 UtiliPay's utility billing software helps utilities save time and money while being secure and providing great customer service.
LEARN MORE
Frequently Asked Questions
What is UtiliPay?

UtiliPay is an independent company that provides secure payments and utility billing software.
What types of payments will be accepted by UtiliPay?

UtiliPay accepts all major Credit/Debit Cards along with direct ACH echeck payments.
Can UtiliPay store payment options?

Yes, UtiliPay stores all credit/debit card and ACH information in the most secure way possible using secure tokens.